Welcome to the highlight of the Costa Rica Pavilion at SIAL Paris at Hall 8, F24.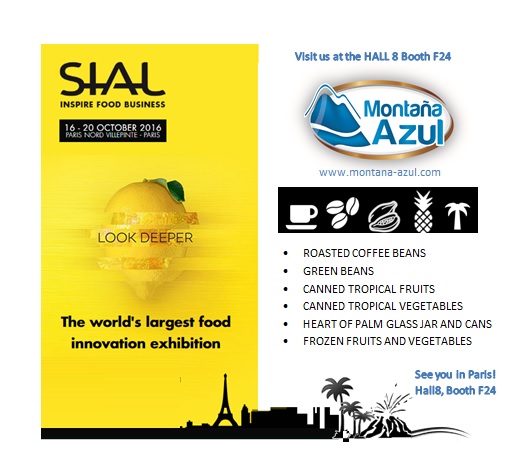 80 % of the worldwide population will live in cities by 2050 and we are ready to cater for every one of those cities. The Paris Nord Villepinte receives Montana Azul team at the Hall 8, Stand F24, as part of the Costa Rica Pavilion.
Fruits & Vegetables growing methods evolve and adapt: frozen products, green coffee and tropical canned vegetables & fruits are part of the offer that the company is showcasing at the show this year.
The Export Department of Montana Azul meets this year 2016 with more potential clients than ever thanks to the great organization and the Food Trends from the show will feed the Sales Team with information for the new product development of the year to come.
The Palm ceviche success, Jalapeno Palmhearts entrance and the Mango in glass jars arrival to US, are among the new products to step on SIAL Paris presented by the company.  The Coffee DripBags arrival in Japan will partner with the Arabica Green Beans Microlots offered for the first time by the Coffee Division of the group in this show.
Oh la la to all our clients and friends taking part on this edition and see you in Paris!