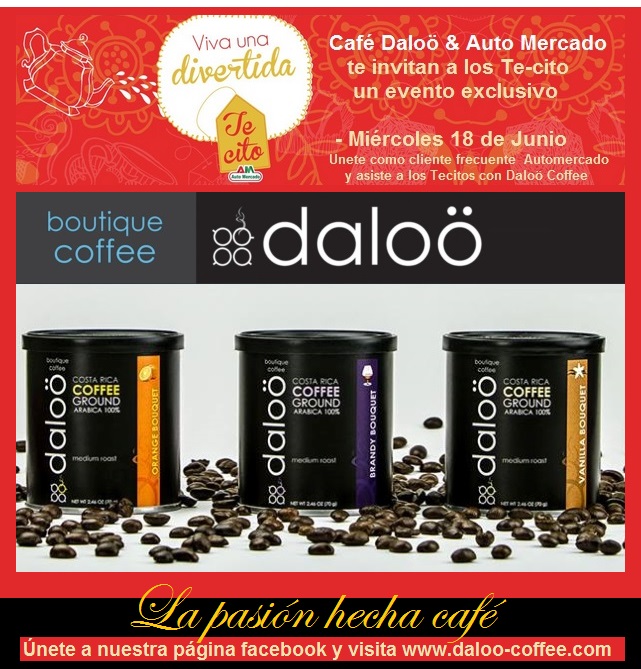 The latest news take us to Costa Rica, where the Premium supermarkets AutoMercado are taking the Daloö Coffee on tour.
Demonstration of Coffee Tasting at their premises these June 16th to 21st from 10 a.m. to 7 p.m. at Heredia and Tres Ríos premises.  Also exclusive activities for the Frequent Clients Program are being executed.  "Tecito" is an activity that shows the use of our products to the guests, explaining what and how are the products used. Within scheduled activities and a very entertaining program, our Coffee Daloö will be displayed the Wednesdays 18 of June, 20 of august, 15 of October and November 12, 2014.
Pahola Arias, National Brand Manager for the Café Daloö confirms that "Automercado is a key partner for our gourmet coffee products, because the selected bouquets for each coffee are the result of a research within the premium markets served by this company". Pahola explains "the client for Daloö Coffee is curious for innovative choices and loves gourmet coffee specialties"
Passion fruit, Guava, Rose, Amaretto, Irish Cream, Vanilla, Chocolate, Orange, East bouquet (cardamom) and Regular, are the different chosen bouquets, giving a hint of aroma to the aftertaste of the intense coffee from the mountains of Costa Rica.
If you are in Costa Rica, join the activies, if not, then join our community online in Facebook and order online at www.daloo-coffee.com