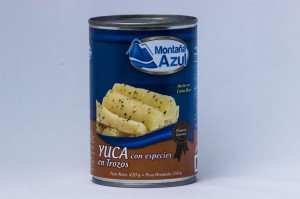 Welcome Cassava !  – Bienvenida la Yuca ! – Bienvenue la Manioc !
Montana Azul is glad to anounce the last addition to the family of gourmet products : Ready to eat – easy open – Cassava with spices !
One of the caribbean & latinamerican best kept secrets, now to your table. No cooking or cutting, no waste or time consumed. Just open the can and it's ready to eat.
This tropical root known as mandioca, tapioca, cassava or yucca; has bene developed with the help of our Food Research consultants from the University of Costa Rica and it's preserved in salt and water, with a shelf life of 4 years.  Very good news for those who love the new specialty dishes, that follows the trend of a high value food solution.  It allows you to save time and enjoy a delicious meal, just opening the can.
Buen provecho con la Cassava ! Bon apetit avec la Manioc !