| | | | |
| --- | --- | --- | --- |
| Brochure Frozen | Brochure Canned | Logistic Information | Gourmet fruits |
| | | | |
| | | |
| --- | --- | --- |
| Heart of Palm | Pineapple | Yuca (Cassava or manioc) |
| | | |
| | | |
| --- | --- | --- |
| Thin Pineapple slices | Papaya vertical sticks | Mixed Pineapple Papaya |
| | | |
| | | |
| --- | --- | --- |
| Green Banana | Ceviche de Palmito | Jalapeño Palms |
| | | |
| | | |
| --- | --- | --- |
| Frozen Banana Leaf | Frozen Pineapple & fruits | Frozen Cassava chunks |
| | | |
Exporting and selling directly !
We sell directly products in Costa Rican national supermarkets, convenience stores, catering services and retailers. We export directly as well to France, United States, Jamaica, Spain, Mexico, Middle East and Central America.
Our products follow production protocols such as Walmart and Carrefour, which speaks of Global Quality and standardized filling the shelves of several countries.
Ordering is as easy as sending the art of your label and we take care of this for you, you decide the code on the cans as well depending on the laws of your country or your business needs. Basically we just need
a) your product especification,
b) 17 days to produce a full 20′ container and
c) your bank confirmation.
Private Label or our brand Our products can be the brand of your company or any of our brands.
Our process is audited constantly by our clients and our plant started its certification process for ISO 22000. It has recertified FSSC22000 in 2018-2022. Besides that, our processes that work under standards of Good Manufacturing Practices (GMP), HACCP (Hazard Analysis and Critical Control Points), FSSC 22000, Kosher certification validated by our Israelite Centre and STARK. We also are Organic certified by KIWA, ETISedex for Walmart, SOCIAL AUDITED by Elavate and Code of Conduct from Costco.
Our profile: SERIOUS PROVIDER, GREAT SERVICE & QUALITY PRODUCT.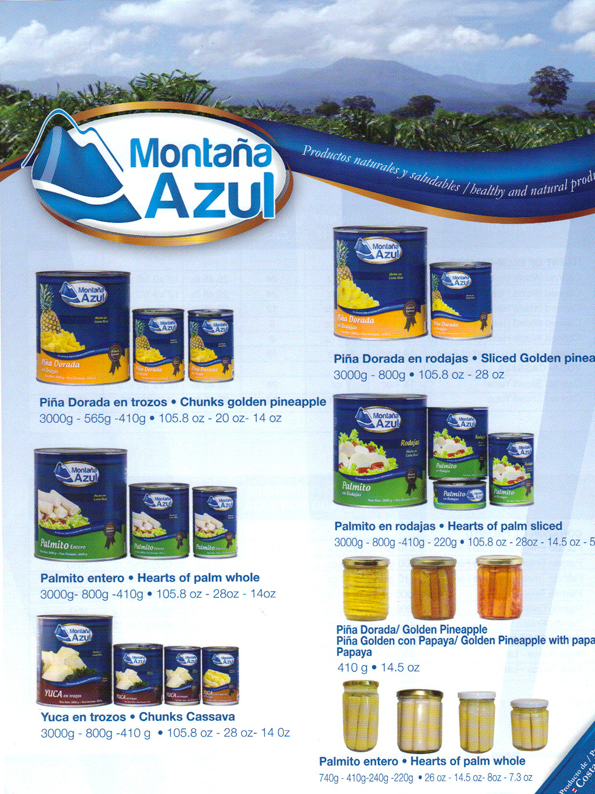 Download the catalog in PDF format
Our fruits: TROPICAL GOURMET PARADISE.
Pineapple, papaya, strawberry, mango, ramboutan and any other combitation.