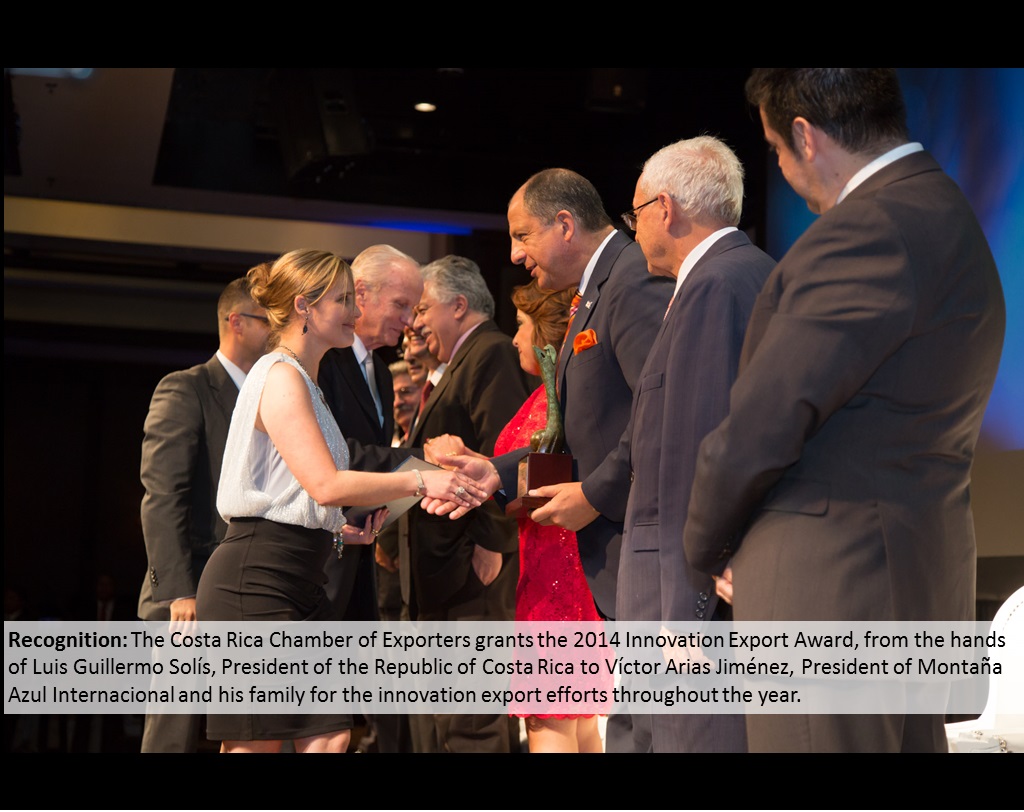 Felicitaciones!. Congratulations!
As the Costa Rica President  handed the Award for the Effort of Exporters, the representatives of the family Montaña Azul walked to the stage to receive it. "Category of Innovation, this award goes to … Montaña Azul".  This award is granted to companies that made an upstanding work in their field of bringing Costa Rican services or goods to the international markets.
This year our President, Victor Arias Jimenez, received the Award and shared some words with the audience "we are a family company, which means for us is difficult to innovate. It takes creativity and hard work". Also invited all the other companies to continue creating and pushing hard for Costa Rica, a country that deserves all our effort. "Costa Rica es un país maravilloso" as he always says.
The Award was granted to Montaña Azul after a careful evaluation from the Jury of 5 different Institutions: Promoter of Foreign Trade, Minister of Health, Ministery of Science and Technology, Ministery of Economy and Trade, and the Chamber of Exporters.
A great end of the year for  don Víctor, a visionary man who also got the 2014 Award for Agriculture (granted by the Chambers of Agriculture) and the Selection 2014 by Sial to 2 of the companies' products: cassava with spices and Daloö Coffee.
No doubt, this success is "made in Costa Rica", by a family with global standards.