" -Como esta el arroz? " (What´s going on?) ! 
The  CostaRican Iconic Distributor of Tío Pelón adopts the products of Montaña Azul under its distribution wing Disal.
Disal Distribution Company or Grupo Tio Pelón, best known because of their iconic brands of rice and beans "Tío Pelón de la Bajura" (the three times-a-day national ingredients) is already distributing all our Montaña Azul products throughout their chain.
Our canned cassava, heart of palm, pineapple, chick peas, mushrooms, sweet corn, join the Grupo Pelón Catalog of latinamerican everyday grocery products at all supermarkets such as rice, beans, spicy "chileros" (traditional hot sauces),  exotic sauces Kamuk branded, and encurtidos (our traditional pickled food). So our new good friend, produces and distributes  all these delicious foods and traditional flavors.
" -Cómo está el arroz? " – Is a phrase that sounds familiar to many CostaRicans, since Disal – Grupo Pelón implemented their marketing campaign, referring to the colloquial question "what's going on?" to a popular analogy of "Cómo está el arroz? " (literal translation of How is the rice doing). The popular phrase became worldwide known since the company sponsored the National Football Team before and during the 2014 Fifa World Cup.
Victor Arias, founder of our company confirms: "Montaña Azul products are a great match for Grupo Pelón products. We produce the yuca root (cassava), the salad (heart of palm) and we sell all the rice companions (canned mushrooms, vegetables, green peas, corn, chick peas, carrots)… plus they have beans!. Here you have two 100%  family companies that achieve the best 'Costa Rican Casado' ever".
The Grupo Pelon, founded by The Gonzalez Family, will be distributing in Costa Rica for HORECA channels and Retail for all the canned produced by Montaña Azul.
Mis amigos, son tus amigos!  (My friends are your friends!). Welcome on board Grupo Pelon!.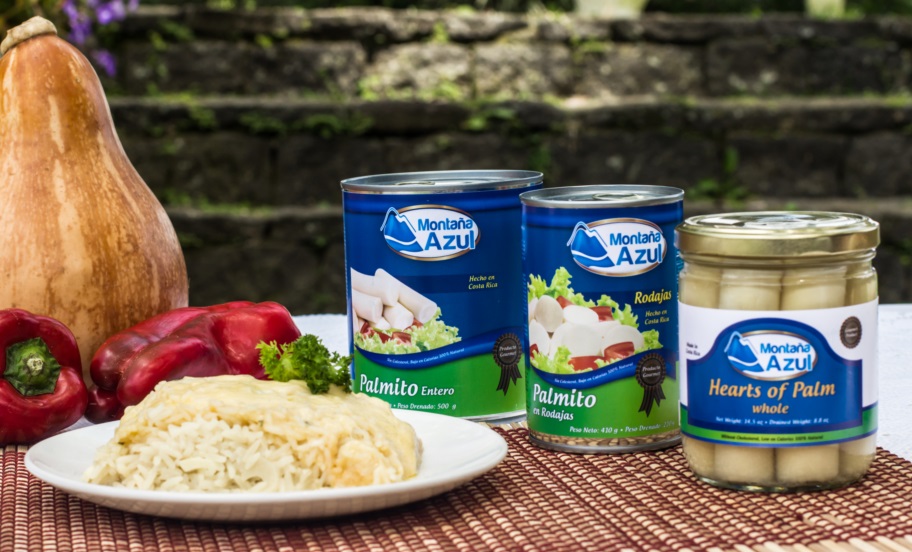 Now, together the rice Tío Pelón and Montaña Azul Heart of Palm can easily be protagonists of many classic recipes such as the "Palmheart Rice" in this illustration.