Oh la la ! Montaña Azul products could win the Grand Prix Innovation 2014 at SIAL Paris this year!
The product "Café Daloö" and "Cassava Montaña Azul", have been selected to compete for the Grand Prix of the Innovation Award Sial Paris 2014.  What is SIAL? Just imagine: 6 000 exhibitors from the food sector, in 5 days of show at the very epicenter of the global trends in flavors and packaging.
Sometimes we need a specialist to tell us "well done", we appreciate it even more when it's the biggest ever SIAL Paris Food Show Judges who tell it to us by adding our products to their "Selection Innovation 2014". Last year this Innovation selection had 400 products of the world. This year we are in the competition!.
Not only one product has been selected by the Jury of SIAL PARIS INNOVATION 2014.  But two! : Cassava from the Atlantic flatlands with our family recipe? Selected!.  Daloö Coffee brand from the Costa Rican volcanic soils with different exotic bouquets? Selected!
Alonso Arias, in charge of the SIAL Paris 2014 participation of the company for the last 8 years comments "Evaluated by attributes such as recipe, marketing, packaging and process of elaboration, among others, both products stood out from the rest and impressed the Jury of 2014. I tell  you something, when those french Juries at SIAL say something is good, we all believe it!  Bravo to Montaña Azul ! My respects to our team, this is a global hit and a reason for the country to be proud "
For the recipe both products innovate in adding a twist to the original : A coffee with an aroma of exotic bouquets of guayaba, rose, passion fruits among others.  Cassava root in can and ready to eat, with a latinamerican-caribbean secret family recipe.
Bon apetit !
This is our Café Daloö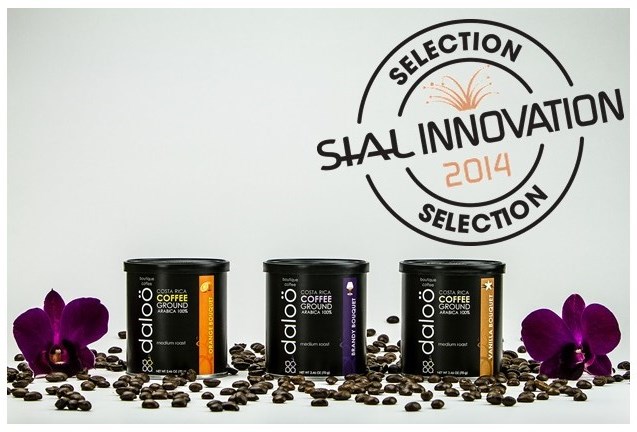 This is our Cassava with spices Montaña Azul